Péter Scherer used to say that even he does not know how he get to the University of Technologies, nonetheless he got his degree, though he never worked as a civil engineer.
Now he is a very famous Hungarian actor. He started his acting career on the Arvisura Company of the Szkéné Színház at the University of Technologies and now he has many plays running at Szkéné Színház (the theatre of BME). His company shared with some of his co-creators, called Nézőművészeti Kft. (means Spectator-arts Ltd.) deals with different classroom theatre projects and also regular, adult plays. We can was him in more Jancsó Miklós films as the member of the legendary "Kapa and Pepe" duo with Zoltán Mucsi. His acting in Kontroll is also well-known. At the moment he is one of the stars of a Hungarian TV dramedy, called Válótársak (Divorce-mates) and he plays almost in every Hungarian movies, in the coming-soon Kincsem film too.
It is not well-known that you performed as a civil engineer (underground field) at BME Faculty of Civil Engineering. Why did you choose this major?
I wanted to be an actor, but I did not get in the college. But having a degree was a principle in my family. My father is a mechanical engineer, my mother is a teacher, and the further education after high school was a very strong expectation at home. I guess my application form was very unique with the University of Theatre and Film Arts followed by the University of Technologies. But I have always been a real-minded, quite good at maths and physics, so that is why I chose BME Faculty of Civil Engineering.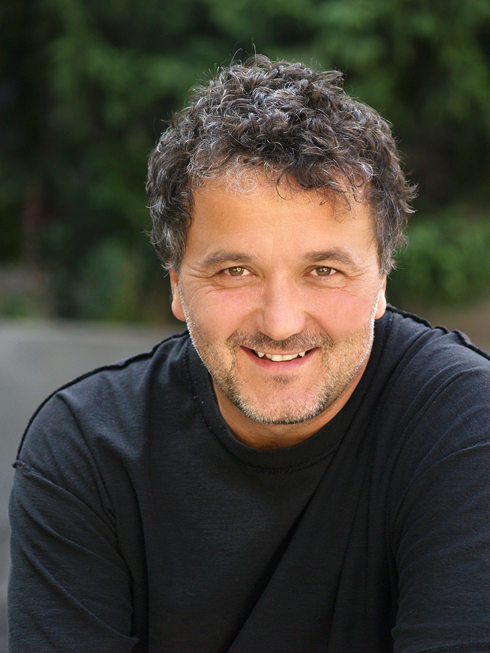 University years were hard?
Very much. After the second year I wanted to leave. Back then if you had 12 re-exams, you have been disqualified from all universities for 2 years. I had 11 re-exams. After that I sat down with my father and said that I do not continue this. He said, I should get my degree, at most I would not work as a civil engineer. I used to say that I graduated at a six-years long chief engineer training (it means that I failed a year).
So it wasn't a real chance for you to work as a civil engineer after university?
But yes, maybe I had a chance, but finally it turned out otherwise. The Arvisura Theatre, in which I was an actor, got a scholarship, so I decided to stay there. And parallel we operated the buffet of the theatre.
You got a different point of view, because you started a technical career?
Sure. I have two stories shows that.
Once a director brought a photo to the rehearsal, on which there's a yogi levitates. Everyone was amazed how wonderful is that. I've started to look at it from the very first moment, that how could be this possible technically. Basically I believe in some higher force (everyone can call as wish), but not in these bullshit, I am much more practical minded. Others said boo, when I started to search for the solution. And then, when we turned the page in the book, we got it: the stick which he holds is fixed into the ground and there's a seat made of this stick, hidden by his clothes. So I was right.
The other story happened during the filming of The Lord's Lantern in Budapest with Miklós Jancsó. In one scene I am walking on a bridge and carping myself, I am very desperate, saying I am a no one… and so on. When we recorded, after no one I put, "I am a zero morpheme". Jancsó said, this phrase can be found out only by an engineer. And I think this is true. My mentality shows the years I spent at university.
You made your own company with some of your colleagues. This is due to your practical mind?
Well, it was much more accidental. We were talking about making it, because we had some own plays and projects. We asked a lawyer friend about our chances, to get to know, how can it work. He could not sleep that night, so for the next day we had our own company, called Nézőművészeti Kft. (Spectator-arts Ltd.). We have a classroom play every year, because we think, addressing youngsters. But we have other experiments too: reinterpretation of classics or improvisation based projects.
Now you are quite close to BME: you have many plays at Szkéné Theatre (the theatre of BME, who presents many projects of Nézőművészeti Kft.). This happened accidentally?
To be honest: an actor goes where he is called to. Nevertheless I love BME, also the building itself. I make every year a special boulevard as the part of the Night of Theatres, where I show the secret parts of the BME buildings and tell some exciting university story.
Was there any life situation where you took benefit from being an engineer?
Ah, when we made a restoration, I was scammed just like everyone else. This is the situation, where I play that dupe-figure in real life, what was usually given to me at film castings in the past decades.